Note: The materials from this course originally broadcast live from Verge Permaculture, April 23-26, 2021.
BUILDING A PERMACULTURE PROPERTY IS A NEVER-ENDING MAZE OF TRYING TO DO THE RIGHT THING, AT THE RIGHT TIME, IN THE RIGHT PLACE, IN THE RIGHT AMOUNT.
Land stewards everywhere struggle with the complexities of transforming a design into a flourishing, resilient regenerative property….
BUT THAT'S ALL GOING TO CHANGE!
Whether you're a starry-eyed new PDC grad seeking your perfect property, or a well-read permie trying to repurpose the land you have, you'll find answers and inspiration in this gathering of the most respected thought leaders in permaculture.
Highlighting their brand-new book, Michelle Avis, Rob Avis, and Takota Coen deliver inspiring, information-packed keynotes on their process to overcome overwhelm and design and build a thriving permaculture property. 
Following, they interview a growing lineup of world-renowned permaculture pioneers about their own early beginnings, painful lessons, hard-won victories, and inspiring case studies…revealing the insights, strategies, and tactical tips at the root of their success.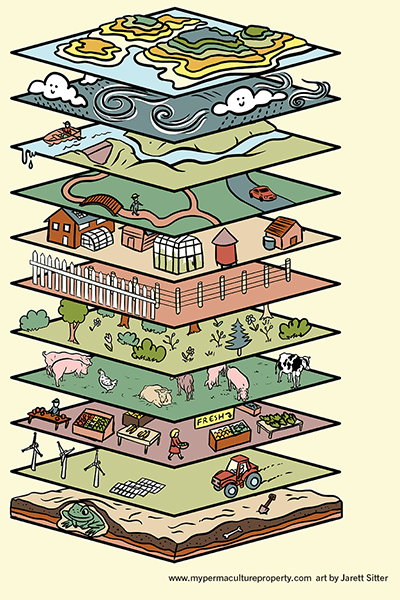 Crafting your mission and vision?
Setting design priorities?
Placing structures?
Managing stormwater?
Halting erosion and remediating the soil?
Deciding on livestock?
We know what it's like to dream of a permaculture property and be paralyzed with conflicting demands, conflicting information, and no idea where to begin making sense of it all. We've helped thousands of clients and students overcome that paralysis. 
That's how the Building Your Permaculture Property book - and this course - came about.